"Sooner or later, we all sit at the banquet of our consequences." 

Robert Louis Stevenson
2022 will be a banquet of consequences.
A rising rate of change in both growth and inflation (quad 2), in place for most of 2021, has ended. The outlook is some combination of "goldilocks" (quad 1) or "deflation" (quad 4). Make sure your allocation is shifting appropriately.
2021 was a massive reflation year (quad 2) following record policy intervention starting in March 2020. However, in rate of change terms, 2022 will very likely show the first significant decline in growth and/or inflation since the Covid "stimulus" was implemented.
Problems can be swept away when growth is accelerating. Typically junk bonds perform well along with the most speculative assets. However, this all changes when the rate of change of growth and inflation turns down. What will happen then? How robust and durable has the "recovery" been?
Financial Potemkin Village.
Never before has intervention taken on the scale of what has happened since March 2020. This introduced unprecended and extreme reactions in the economy and markets.
The header chart shows that if you just bought negative earning stocks, on avearge, you could have tripled your money.
"The chart above shows that despite record low-interest rates, the market cap of firms that cannot afford to pay their interest expenses has never been higher."
When quad 2 ends you should expect zombie companies to have a different reaction.
The chart below shows how much zombie companies outperformed the S&P500.
The AMC story in the link above shows how much asset prices have become clearly distorted. Yield and return starved investors are searching for somewhere to go, and with record excess liquidity, corporations and Wall Street have a solution.
"The issuance of junk bonds and leveraged loans soared to $1.02 trillion in 2021 through November 12, beating by far the full-year record established in 2017 ($780 billion), "as speculative-rated companies have amassed cheap funding from yield-hungry investors," according to S&P Global Market Intelligence.
Within the S&P 500 distortions have been driven by cash flows and passive investing into ultra big cap stocks. As shown below, the five biggest stocks got even bigger to a new all time record percentage of the S&P 500. With QE and Buybacks providing well over 2 Trillion of asset purchases in 2021 alone, the largest companies had to outperfrom to adequately accomodate the record level of excessive liquidity.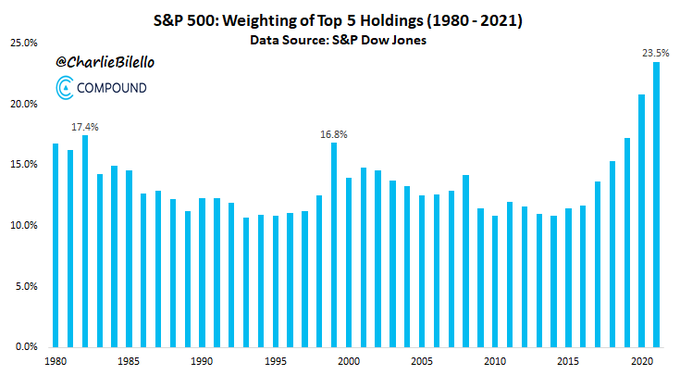 No US equity index properly describes all the distortions in US equity performance in 2021
So "Meme" stocks, like AMC, ultra big cap stocks and zombie stocks, all had spectacular performances which were far beyond their earnings. At least until the oil price collapse in recent days which ended quad 2 reflation.
Most stocks peaked in just the first 2 months of the year. The performance more broadly has been very uneven. IWO, the Russell 2000 growth stock ETF, peaked in the first week of February, 2021. So much for a year long rally in US domestic growth stocks, IWO has been declining since February!
Furthermore, the chart below shows that the peak in the percentage of NYSE stocks trading above their 200 day moving average was also in the first 2 months.and has weakened ever since and remains in a downtrend. Around half of NYSE stocks are already in a confirmed downtrend on this simple measure.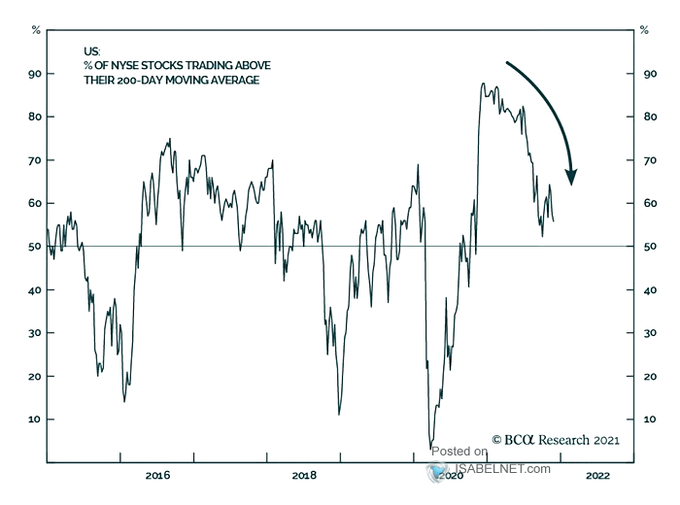 A motherlode of simultaneous historical indications of a market peak.
"Well, on Friday, November 19, we hit the motherlode. Across four decades of work in the financial markets, and over a century of historical data, I've never observed as many historical indications of a market peak occurring simultaneously."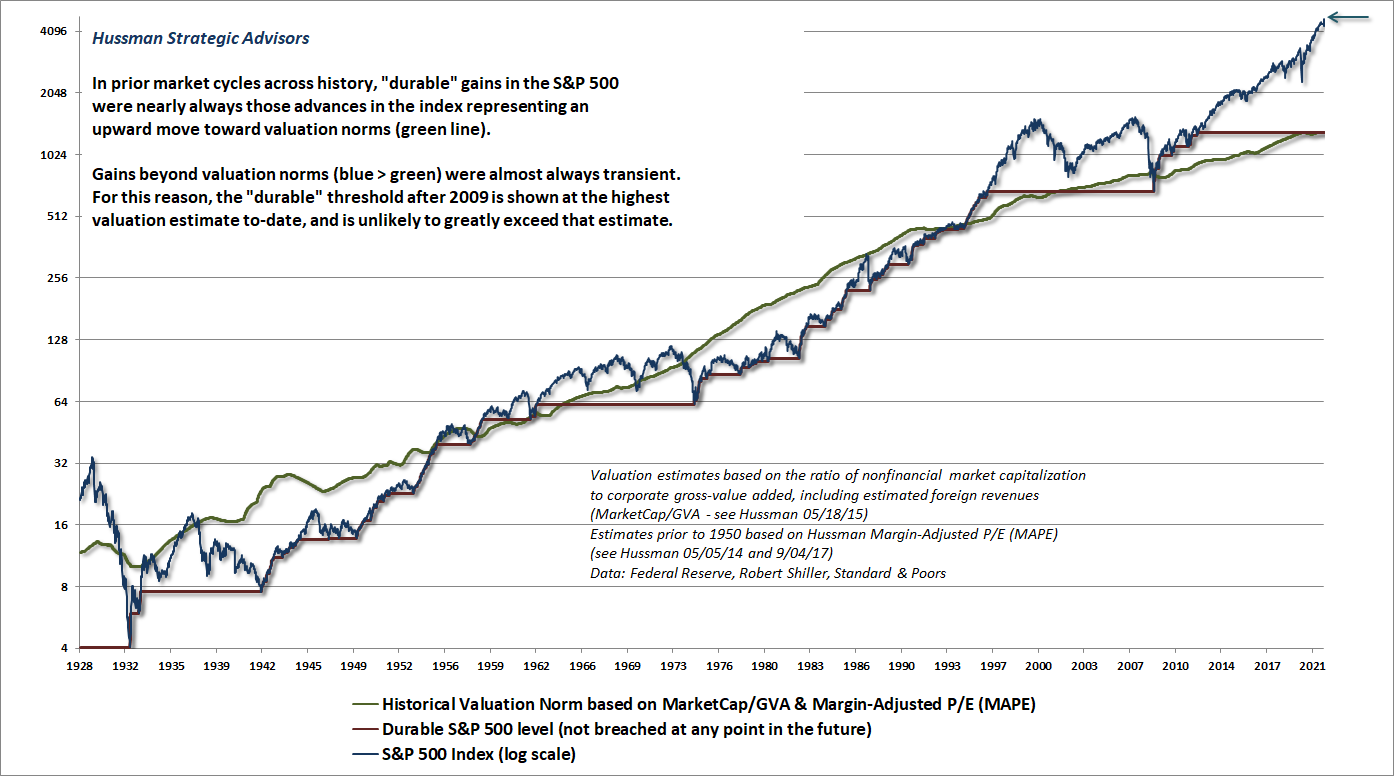 Here and now, market conditions are characterized by:
The most extreme valuations in U.S. history, on the measures we find best-correlated with actual subsequent market returns over the past century, and even in recent decades, coupled with lopsided bullish sentiment and historic levels of margin leverage;
Deterioration and divergence across measures of market internals that we believe to be reliable gauges of investor psychology toward speculation versus risk-aversion;
The largest preponderance of overextended syndromes – typically associated with intermediate or cyclical market peaks – that we've ever observed in history.
Not a forecast. Not a "limit." Not a market call. Just sharing what we're seeing.
Still, it's fair to add that we've never seen such a thing.
In general, current risk assessments, positions and behaviour reflect a lack of prepartion for the scale of mean reversion from market distortions and the inevitable unwinding of extreme allocations.
It is crucial that investors review their risk management and investment allocation process. For more information, find out what the Best Investors do: https://chrisbelchamber.com/.
Please note these important disclaimers:Educational use Only. The market update published by CB Investment Management, LLC ("CB Investment") is intended to be educational in nature and is not intended to be a recommendation for any specific investment product, strategy, plan feature or other purposes. Accordingly, it should not be construed by any consumer and/or prospective client as solicitation to effect, or attempt to effect transactions in securities, or the rendering of personalized investment advice for compensation.Advertising and Marketing. Communications such as this are not impartial and are provided in connection with advertising and marketing. This material is not suggesting a specific course of action or any action at all. Prior to making any investment or financial decisions, an investor should seek individualized advice from a personal financial, insurance, legal or tax professional that takes into account all of the particular facts and circumstances of an investor's own situation. No person associated with CB Investment is a licensed attorney or tax professional and the information contained herein should not be considered tax or legal advice. Links to Third Party Content. This Market Update contains links to articles or other information maintained by unrelated third parties. You acknowledge and agree to the following: All such information is provided solely for convenience purposes only because we believe that it may provide useful content and all users thereof should be guided accordingly. We disclaim any responsibility for the link's performance or interaction with your computer, its security and privacy policies and practices, and any consequences that may result from visiting it. We do not control the content published by the third-party; we do not guarantee any claims made on it, nor do we endorse its sponsor or any of the content, policies, activities, products or services offered by any advertiser on the site. CB Investment assumes no liability for any inaccuracies, errors or omissions in or from any data or other information provided by the third party and inclusion or reference by CB Investment to any third party link should not be construed by any consumer and/or prospective client as a solicitation to effect, or attempt to effect transactions in securities, or the rendering of personalized investment advice for compensation, over the Internet.
Important Information regarding Registration Investment advice is offered through CB Investment Management, LLC ("CB Investment"), 8231 Crestwood Heights Drive, Mclean VA 22102 an investment adviser registered with the states of Virginia and Maryland. Registration with the states of Virginia and Maryland should not be construed to imply that the SEC has approved or endorsed qualifications or the services offered, or that its personnel possess a particular level of skill, expertise or training. Important information and disclosures related to CB Investment are available at https://chrisbelchamber.com.