Global manufacturing rolling over
World trade falls 13.8% in dollar volume
US trend growth weak getting weaker
US slowdown now hitting service sector
Income and spending cycles remain in a downtrend
"Great corporate earnings fraud"
Forward earnings expectations are also trending lower
Yield curve flattest since 2007
Bad for financials in particular
What if the central banks can't even save the banks anymore? Would they start buying gold? Central banks are on their longest gold buying spree in over 40 years
"How big banks created the fed to serve their own interests"
Even the BIS plainly repudiates it's own members central bank policy
Ray Dalio explains what happens next
———————————————–
Global manufacturing rolling over
As David Hensley, Director of Global Economic Coordination at J.P.Morgan, said:
 "

The Global Manufacturing PMI posted at the stagnation mark in February, further highlighting the fragility of global industry at the start of the year.

 

Inflows of new business and production volumes barely rose, while the trend in international trade deteriorated.

Market conditions will need to improve in the short run if global manufacturing is to avoid falling back into contraction."
http://www.zerohedge.com/news/2016-03-01/global-manufacturing-rolling-over-over-70-global-pmis-decline-february
World trade falls 13.8% in dollar value
"The new data released on Thursday represent the first snapshot of global trade for 2015. But the figures also come amid growing concerns that 2016 is already shaping up to be more fraught with dangers for the global economy than previously expected."
US trend growth weak getting weaker
"A cyclical slowdown in global growth is unfolding in the context of a long-term decline in trend growth that we identified years ago. Indeed, U.S. long-term trend real GDP growth is converging to about ¾%, the same as Japan's average real GDP growth over the past quarter-century, spanning its "lost decades." In that sense, the U.S. is well on the way to "becoming Japan.""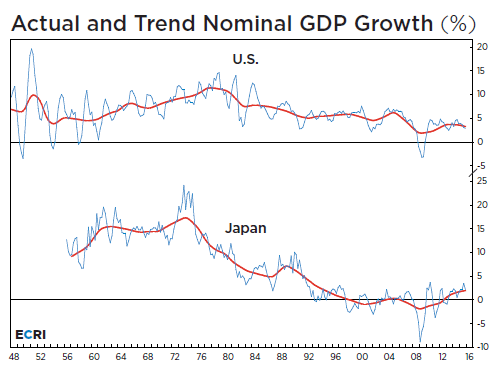 https://www.businesscycle.com/ecri-reports-indexes/report-summary-details/economic-cycle-research-ecri-trend-growth-us-vs-japan
US slowdown now hitting service sector
"business activity stagnated in February as malaise spread from the manufacturing sector to services. The Markit PMIs are signalling a stagnation of the economy in February, suggesting growth has deteriorated further since late last year. Prices pressures are waning again in line with faltering demand. Average prices charged for goods and services are dropping once again, down for the first time in five months, as firms compete to win new business."
http://www.zerohedge.com/news/2016-03-03/malaise-has-spread-services-service-industries-cut-jobs-first-time-two-years
Income and spending cycles remain in a downtrend
Meanwhile the most important components of the US economy, income and consumption, remain in well established downtrends.
"Great corporate earnings fraud"
Very few investors seem to have noticed that not only has the difference between GAAP and Non-GAAP earnings widened a great deal over the last years, but also GAAP earnings have fallen two years in a row, to 2010 levels! Beyond financial engineering the bull market was valid because …… ?
Forward earnings expectations are also trending lower
Not just recent past earnings have slowed down but also expectations have been trending down for well over a year.
Yield curve flattest since 2007
One of the most reliable economic signals is the Treasury yield curve. The growth slowdown message is clear as even at near zero interest rates the curve is now as flat as it has been since 2007!
Bad For Financials in particular
This is usually a very bad sign for financial stocks.
http://www.zerohedge.com/news/2016-02-29/treasury-yield-curve-collapses-flattest-nov-2007
What if the central banks can't even save the banks anymore? Would they start buying gold? Central banks are on their longest gold buying spree
Most central bankers dismiss the gold standard vigorously and repeatedly, but often it is more revealing what people do than what they say. It turns out that gold is being bought by the central banks at the most vigorous pace since the gold peg was abandoned over 40 years ago!
http://www.zerohedge.com/news/2016-03-02/global-central-banks-continue-longest-gold-buying-spree-vietnam-war
"How big banks created the fed to serve their own interests"
So what are central banks for anyway? Why after all they have been doing do we find ourselves in this place? Does the cartoon have some merit? If you want to find out more about an institution it is often to understand how it began. Is there anyone else more knowledgeable about this than Nomi Prins?
http://www.americanbanker.com/bankthink/how-big-banks-created-a-fed-to-serve-their-own-interests-1066701-1.html
Even the BIS plainly repudiates it's own members central bank policy
The predicament is so obvious that even at the highest level of research on central bank policy, even the BIS completely repudiates it's own members central bank policy.
https://www.bis.org/speeches/sp160210_slides.pdf
Ray Dalio explains what happens next
We are fortunate to have on hand the world's biggest hedge fund manager to explain what happens next.
http://www.bloomberg.com/news/videos/2016-03-03/bridgewater-s-ray-dalio-on-economy-investing-success