George Soros joins the rate hike blunder chorus
Ray Dalio is already in the Choir
Could there have been a worse time to raise rates?
Fed is stuck in the wrong paradigm. Epic policy Failure.
"The Central Banks Are Out Of Tricks"
Central Banks losing control of market engineering
Central banks slow to learn about counterproductive intervention
A Simple Warning
What's next? 
—————–
George Soros joins the rate hike blunder chorus
Soros said he would be surprised if the Federal Reserve raised interest rates again after increasing them in December for the first time in almost a decade, despite the central bank's projection for further hikes this year. The Fed made a mistake in lifting rates when it did, he said, because deflationary expectations had already set in and consumers were less likely to respond to lower borrowing costs with increased spending.
http://www.bloomberg.com/news/articles/2016-01-21/george-soros-says-he-expects-hard-landing-for-chinese-economy
Ray Dalio is already in the Choir
"The risks are asymmetric on the downside, because asset prices are comparatively high at the same time there's not an ability to ease," he added. "That asymmetric risk exists all around the world. So every country in the world needs an easier monetary policy."
http://www.cnbc.com/2016/01/20/bridgewaters-dalio-feds-next-move-toward-qe-not-tightening.html
Could there have been a worse time to raise rates?
These notes wrote at length about the obvious deceleration in the US economy in Q4 2015, while the 4 year commodity collapse continued. It is simply astonishing that the Fed ignored all this data in a counterproductive interest rate rise which has not only done even further economic damage, but in doing so has marked a major turning point in their own credibility and indeed the credibility of all the central banks.
Here are 2 charts which show that far from there being any upside risk to either their growth or inflation forcasts, the actual risk signaled by the data is in the exact opposite direction.
The Atlanta Fed lowered its Q4 growth forecast to 0.6%. Puts 2015 at 1.8%. A significant decline from 2014 and well below their objective. Oops.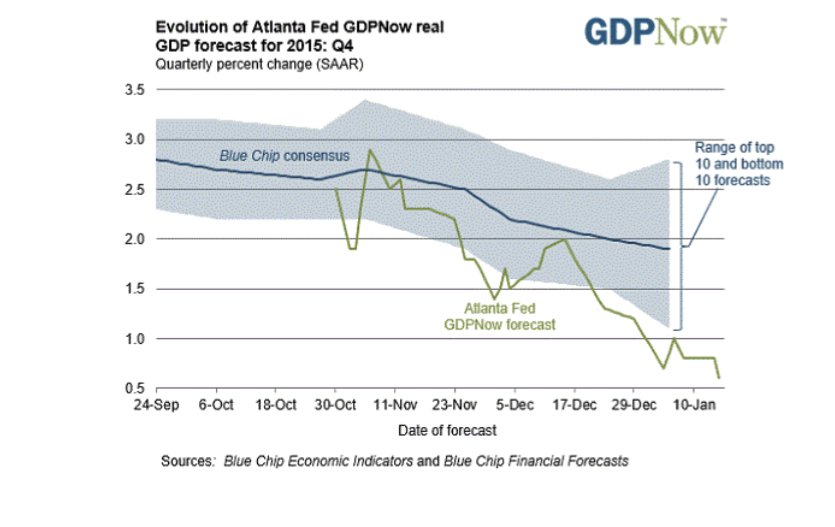 The bond market does an effective job of reflecting current long term inflation expectations.  They have just broken down to new 5 year lows. Once again far below the Fed's objectives. Oops again.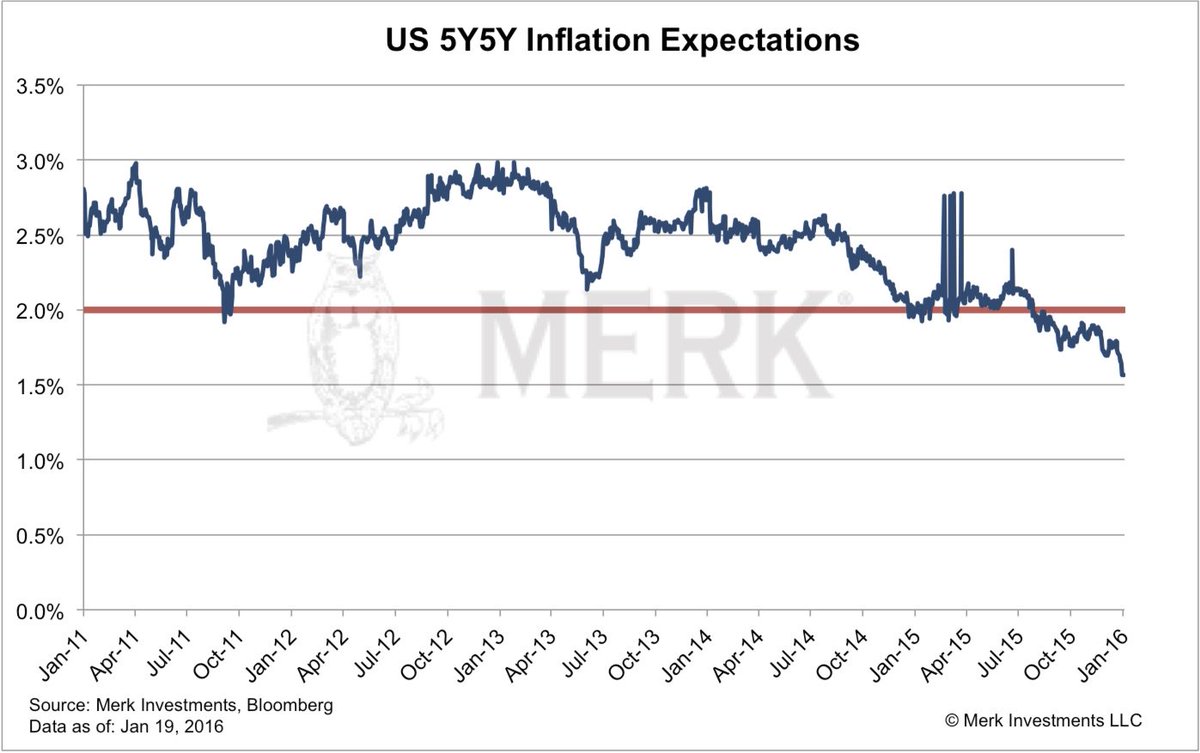 Could there have been a worse time to raise rates? Certainly not from the point of view of emerging markets. The  article below suggests that in terms of emerging markets in debt, currency and stocks there has probably never been a worse time.  This chart shows that emerging market debt is already well below 2008 lows.
http://www.zerohedge.com/news/2016-01-20/emerging-markets-it-now-worse-asian-financial-crisis
Fed is stuck in the wrong paradigm. Epic policy Failure.
The remarkably incisive Dr. Lacy Hunt has been on point on the bond market for years, and explains the current predicament so accurately that this should be required reading for all investors.
"The economy was supposed to fire on all cylinders in 2015. Sufficient time had passed for the often-mentioned lags in monetary and fiscal policy to finally work their way through the system according to many pundits inside and outside the Fed. Surely the economy would be kick-started by: three rounds of quantitative easing and forward guidance; a record Federal Reserve balance sheet; and an unprecedented increase in federal debt from $9.99 trillion in 2008 to $18.63 trillion in 2015, a jump of 86%. Further, stock prices had gained sufficiently over the past several years, thus the so-called wealth effect would boost consumer spending. But the economic facts of 2015 displayed no impact from these massive government experiments."
http://www.zerohedge.com/news/2016-01-16/how-qe-crushes-real-economy-why-secular-low-treasury-yields-lies-ahead
"The Central Banks Are Out Of Tricks"
More simply perhaps –  "The central bank magic is fundamentally a mind-trick of managing expectations…Once expectations revert to caution, the central banks lose their power to move markets with pronouncements. Unfortunately for believers in the omnipotence of central banks, monetary legerdemain has little power over the real economy. Once the power to manage expectations has been lost, the central bank bag of tricks is empty."
http://www.oftwominds.com/blogjan16/out-of-tricks1-16.html
Central Banks losing control of market engineering
One of the most extraordinary central banks initiatives in recent years has been commitment to boost equity market values through QE and balance sheet engineering, as if this somehow could help boost the economy. This attempt at reversing cause and effect has now clearly failed.
Many investors have not fully appreciated how little the equity rallies had to do with earnings, revenues, or economic growth. This is important because increasingly central banks no longer seem to be as able to engineer the markets as well as they did. Investors who did not understand this could be in for a rude awakening as the real cycles and valuations reassert themselves.
The chart below shows that globally equity markets have already wiped out all the gains since 2013 in just the last 6 months or so.
http://www.zerohedge.com/news/2016-01-21/fragile-forty-how-world-lost-17-trillion-6-months
Central banks slow to learn about counterproductive intervention
China's attempts at stock market intervention have reached absurd proportions as the link below describes in great detail. Policy makers often seem incapable of understanding how counterproductive their interventions can become.
Bill Gross puts it very simply – "Jerry-rigged markets are dangerous markets."
http://www.zerohedge.com/news/2016-01-21/china-promises-keep-intervening-look-after-stock-market-investors-hurt-speculators
 A Simple Warning
Investors need to think very carefully about the rallies of recent years. Perhaps, the best way of understanding the risks is look at a very long term context to see what has and therefore can happen though major stock market cycles.
http://www.zerohedge.com/news/2016-01-21/simple-warning
What's next? 
With the failure of all the Fed's policies to generate sustainable economic solutions now obvious, and now in addition the great blunder of the December interest rate rise on top, the days of faith in the central bank's mind tricks are numbered if they are not already over.
However, with the economy still nowhere near Fed objectives and still weakening, with the weakest inflation expectations for at least 5 years, the Fed may be forced in to action very soon. In its playbook there are just 3 remaining steps.
1. Admit that they are missing on their objectives and revert from a tightening bias to an easing bias.
2. Try QE once again. It may buy time, and will generate a bounce in the market but as in Europe, China, and Japan, it will prove once again to be a temporary fix, with no beneficial economic outcome.
3. When this has been tried to exhaustion, the last step will be to monetize debt. This could be effective, but would also be inflationary.
These steps all suggest different portfolio allocations, so need to be watched very closely. Investors need to understand that this evolution will require multiple allocation changes. This is very unlikely to be a static allocation environment.
The economy and policy are currently on tilt after decades of promoting debt growth as the path to economic growth.