"Fed Knows policy doesn't work anymore but won't admit it"
"If you're the Fed, Wednesday was the day the music died." – Jim Rickards
Fed's Williams calls for an overhaul of monetary and fiscal policy
St Louis Fed searches for a new approach
Meanwhile the central banks continue to choke productivity
As many say the economy is already in a recession
Why the Fed can't/won't find the solution
"Fed Knows policy doesn't work anymore but won't admit it"
"They (all central banks) know it's (monetary policy) not effective but no-one is going to tell us, they are never going to admit it. There are certain things central bankers cannot tell, there are certain things that central bankers cannot do," Valensise said on CNBC. Marino Valensise is head of multi-asset and income at Baring Asset Management
http://www.cnbc.com/2016/08/18/fed-knows-policy-doesnt-work-anymore-but-it-wont-admit-it-strategist.html
"If you're the Fed, Wednesday was the day the music died." – Jim Rickards
"If you're the Fed, Wednesday was the day the music died. The Fed issued minutes from the July FOMC meeting and absolutely no one cared. We've been telling readers for years that the Fed does not know what they're doing, and we've been saying for months that investors should not listen to the cacophony and contradiction coming from the thundering herd of regional Fed reserve bank presidents, Fed governors, and Fed staff. Wednesday was the day when the entire market and probably the entire world caught up with this reality. The Fed's credibility is gone; it's done; they have nothing left.
From now on the Fed will be like the rest of us — watching data, doing analysis and trying to decide on a next move. But any notion that the Fed has superior insight or better information has just evaporated. They have no credibility and no clue.
How do we know? The decline in Fed credibility has been accelerating for some time, but Wednesday was the tipping point. This is shown by the market reaction. The minutes conveyed some division, and reporters dutifully described how some FOMC members thought a rate hike in the near future was a strong possibility (it's not, but that's what they said). They based this prognostication on the fact that Brexit is safely behind us (it's not) and financial conditions have eased because of higher stock prices (that's actually a bubble dynamic, but the Fed doesn't see bubbles). The story line was that a September rate hike was still on the table.
What did markets do? Markets faded the Fed. Normally a rate hike would mean a stronger dollar, lower gold prices, and higher interest rates. Instead, the dollar weakened, gold rallied and yields fell. When markets do the exact opposite of what the Fed was implying, it means the Fed has no credibility. The problem is that once credibility is lost, it can be impossible to regain. We are now in a new world of impotent central banks. The emperor has no clothes and everyone knows it.
Our analysis says that there will be no rate hikes until December 2016 at the earliest and probably 2017 at this point. The weak dollar, strong gold, strong euro trends will continue. Stocks may rally on more easy money, but I wouldn't touch most stocks (with the exception of some gold miners and some natural resources plays), because stocks have a bubble dynamic. Cash, gold, silver, land, energy and water plays are still the way to go.
The good news about the Fed's lost credibility is that we all have more time to read and relax because truly no one is listening to the Fed."
Fed's Williams calls for an overhaul of monetary and fiscal policy
At least calling for an overhaul of policy is some recognition that there are issues, but does the Fed really get it having been so wrong for so long?
"The time has come to critically reassess prevailing policy frameworks and consider adjustments to handle new challenges, specifically those related to a low natural real rate of interest. While price level or nominal GDP targeting by monetary authorities are options, fiscal and other policies must also take on some of the burden to help sustain economic growth and stability."
http://www.zerohedge.com/news/2016-08-15/feds-williams-calls-overhaul-monetary-and-fiscal-policy-there-problem
St Louis Fed searches for a new approach
Another search, but how far can they really look beyond their failing framework?
https://www.stlouisfed.org/news-releases/2016/08/17/st-louis-feds-bullard-discusses-new-approach-to-monetary-policy-normalization?&utm_source=Twitter&utm_medium=SM&utm_term=monetary&utm_content=speech&utm_campaign=2873
Meanwhile the central banks continue to choke productivity
"When will central bankers conclude that it's their own medicine that is actually making the economy sick?  They will not make that connection until they succeed in killing the patient…and even then they may continue to administer the same toxic medicine to a corpse. The political pressure is just too great to ever admit their mistakes, so they repeat them indefinitely."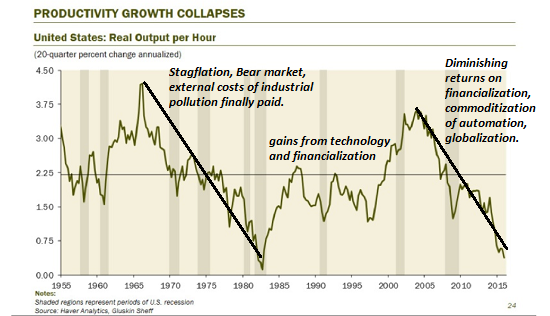 http://www.europac.com/commentaries/central_banks_are_choking_productivity
As many say the economy is already in a recession
Why the Fed can't/won't find the solution
"The Fed has not only failed to fix what's broken in the U.S. economy–it has actively made those problems worse. The first step in solving these problems is to eliminate whatever is making them worse–i.e. the Federal Reserve."

http://www.oftwominds.com/blogaug16/fed-fix8-16.html