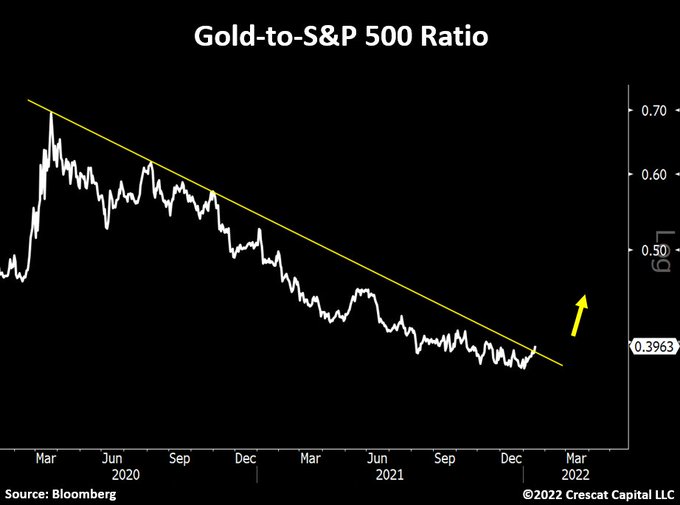 A clear quad 4 (declining rate of change in both inflation and growth) market signal is gold outperforming equities. Investors should consider the probability of the data confirming this investment environment for the next 6 months.
With the Fed's hands now tied by it's own rhetoric on tapering asset purchases and raising rates, it is hard for the Fed to provide the usual equity market support. The Fed will provide an update next week but tightening policy into a slowing economic growth and inflation data is going to be a challenge.
Sooner or later "The Most Reckless Fed Ever", https://chrisbelchamber.com/most-reckless-fed-ever/, will have to address the consequences of its own extreme discretionary actions. Investors, and apparently congress, are still trying to catch up with what the Fed has been doing. Liquidity has exploded in ways few, and this may include the Fed itself, have understood.
"On Jan. 30, 2019, the Federal Open Market Committee of the Federal Reserve System announced to little fanfare a momentous change in how it conducts monetary policy.  The change was adopted without any formal notice or request for public comment, nor with any formal input from Congress or the Administration.[1]  Nevertheless, the change has had and will continue to have a profound effect on the role of the Federal Reserve in the United States financial system.  To implement policy in its new regime, the Fed not only has to be much bigger but also must continuously grow larger and expand the breadth of its counterparties.  The record indicates that the FOMC did not appreciate the consequences of its decision at the time, and the question now is whether the decision will be revisited given how manifest and serious those consequences are."
So far there is no sign that the Fed's balance sheet has stopped growing.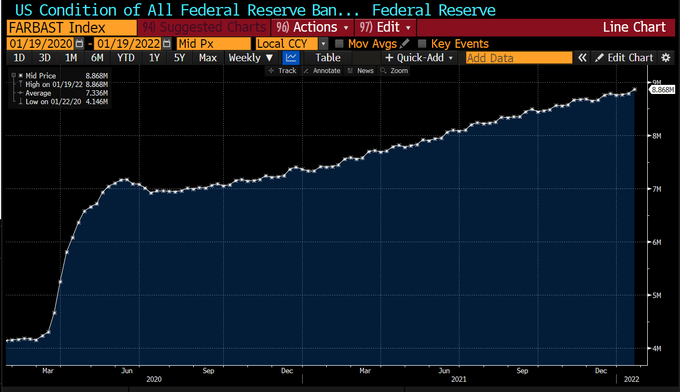 How far can the stock market correct? What did we get from 2 years of stimulus? The labor market has some guidance.
According to the US Labor Force Participation rate the recovery is only half way back to pre-covid times.
So a smaller percentage of people with jobs, and for those with a job the yoy rate of real avarage hourly earnings  went negative a year ago.
It is far from clear where the growth will come from as the spending support fades. Fed nominee Judy Shelton considered last April how "The U.S. Recovery Would Be Stronger Without Stimulus". It is worth understanding these dynamics:
Now that the Fed is retreating from its support operations investors need to carefully consider how far above pre covid levels the US stock market will settle as the impact from the biggest stimulus package in history begins to fade. Historically, bubbles can return to where they started.