Hussman explains investment "head of the snake – the poisonous gap between paper wealth and real wealth"
How far has the Fed put the S&P 500 off the map? Historic 5 year divergence with bond yields
Bonds yields seem better aligned with US and China import trends
Bonds yields seem better aligned with clear US market economic cycle signals
How did we get so "Crazy"?
Unaccountable Corporate power destroys ….
Leaving "Crazy" Neofeudalism
Hussman explains investment "head of the snake – the poisonous gap between paper wealth and real wealth"
Investors must understand what the header chart is saying, and look forward not backwards, in order to choose an effective strategy.
"From an investment standpoint, the value of any security is inherent in the long-term stream of cash flows it will deliver to investors over time. Artificially jacking up financial securities through reckless monetary policy doesn't change the cash flows that those securities will deliver over time; it only converts future expected return into past realized return, leaving nothing but risk on the table for years to come. Central bank intervention is not a benefit to long-term economic prosperity. It is the head of the snake.
Though alternative measures vary slightly, the implication of roughly zero, or even negative, expected total returns on the S&P 500 over the coming 12-year period is broadly consistent with other reliable valuation measures that are most closely correlated with actual subsequent market returns."
http://www.hussmanfunds.com/wmc/wmc160704.htm
How far has the Fed put the S&P 500 off the map? Historic 5 year divergence with bond yields
The S&P 500 seems to have ignored global bond yields for around 5 years, and at an accelerating rate.
http://www.zerohedge.com/news/2016-07-06/it-feels-2008-government-bond-yields-signal-something-very-nasty-coming
Bonds yields seem better aligned with US and China imports trends
Bonds yields seem better aligned with clear US market economic cycle signals
http://stockcharts.com/articles/chartwatchers/2016/07/rotation-is-painting-a-very-bearish-picture.html
How did we get so "Crazy"?
https://youtu.be/CLQsT9BPHpg
Unaccountable Corporate power destroys ….
"Do you really think it's mere coincidence that small business growth has imploded in the era of corporate dominance? As I explained yesterday inGovernments Change, the Corporatocracy Endures, central banks dropping interest rates to near-zero for financiers and corporations sealed corporate dominance of finance and governance. There are few opportunities for small businesses when the financial and political structures serve neofeudal corporate interests."
http://www.oftwominds.com/blogjuly16/democracy7-16.html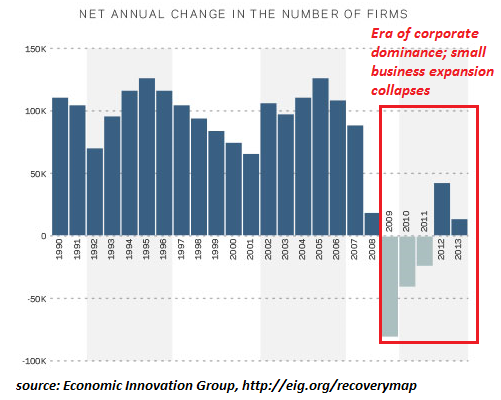 Leaving "Crazy" Neofeudalism
Privilege and unaccountable corporate power are leading to increasingly crazy neofeudalism. This is especially relevant to investors as the mechanism is financial.
Hanging on to power and privilege has extended deep into diminishing returns, and benefits an ever smaller elite as a growing majority finds its voice as economies implode.
Know the game you are in. Understand the forces that are working against your best interest. This will empower you, and increase your chances of success.