The Most Reckless Fed Ever With A Continuing Contradiction.
Serious About Inflation? So Why Does Extreme Easy Policy Continue?
Even Fed Chairman Powell states this week, "it's a long road to normal from where we are."
"What generates the evils is the expansionist policy. Its termination only makes the evils visible. This termination must at any rate come sooner or later, and the later it comes, the more severe are the damages which the actual boom has caused." – Ludwig von Mises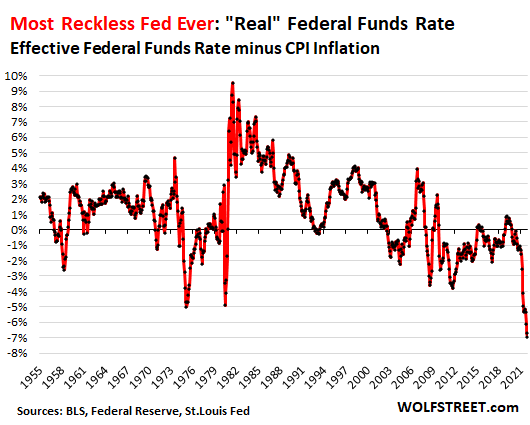 In 2021 US bond yields seemingly ignored any relationship with the CPI for the first time in at least 30 years. While Powell tried to retire the word "transitory" as it relates to inflation the reality is that every investor is still betting heavily that inflation actually is transitory. If not then the bond market is on borrowed time, as are most other assets which derive their pricing from bonds.
https://realinvestmentadvice.com/2022-outlook-investment-outlook-part-2-stocks-bonds
More remarkable yet, the Fed is still stimulating with a record

"Real" Fed Funds Rate measure, asset purchases, record fiscal policy and record money supply. And they know it. Just last week Powell said about policy

….

"it's a long road to normal from where we are."
The Fed will still be buying assets until the end of  March. This is after buying well over a Trillion at an annual rate in 2021 and before.
The Fiscal stimulus for "covid" was, in GDP terms, twice the size of the "New Deal" in the 1930s depression.
Money supply.  "The rate of US M2 growth recently is the highest by far since records began, even greater than at any time in the two World Wars and compares with a maximum of rate of 13.8% in February 1976, half of that today."

https://www.goldmoney.com/research/goldmoney-insights/money-supply-and-rising-interest-rates
Investors need to be clear about what this means for asset prices and the economy. Not just to understand the markets over the last two years but, more importantly, what it means for the future. While the US economy has experienced bubbles in the past, nothing compares to the scale and breadth of "stimulus" the US has experienced since March 2020.
All four stimulus measures exceed anything seen before, and remarkably, this time they all came together at the same time!. The biggest US Bubble ever. The BIS got what they intended in mid 2019,

https://www.bis.org/press/p190630.htm

,

but what happens next?
The illusion of debt and money supply driven economic growth and markets.
Here's the theory. It seems that by influencing the components of the GDP the government and the central bank can exercise control over the economy's growth rate. However, is this the case? In the short term it is. Demand, as calculated in GDP statistics, can clearly get a boost from "something from nothing" stimulus. So far so good. Regrettably, other longer term effects don't get counted. The natural growth engine derived from savings and productivity goes into decline as they become overwhelmed by the immediate simplicity and intensity of debt and money creation. Compared to what would have happened naturally "something for nothing" arguably creates distortions and dysfunction and weaker long term growth.
Naturally, this is a complicated subject that is widely debated as outlined in this link:
More persuasively, perhaps, the empirical evidence is very compelling about the longer term effects, according to 70 years of data long term growth has been declining for 70 years. Broadly from 4% in the 50s and 60s, to 3% in the 70s, 80s, and 90s, to 2% thereafter. At the same time it is also clear that wealth has become extremely uneven. How is this successful good policy?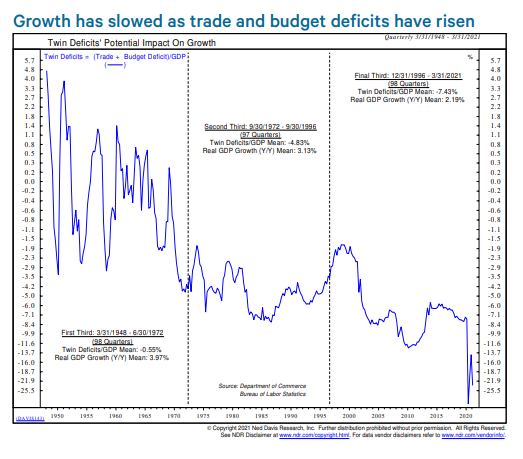 https://chrisbelchamber.com/economy-policy-is-accelerating-in-a-challenging-direction-consequences-for-the-near-term-economic-cycle-and-long-term-growth/?inf_contact_key=5e597c671dd9bb953b1983d73a4dd794
The Mises quote at the top of this Insight warns investors that in the current "boom" the policy error has already been made. The Fed is just now beginning to react to the short term "success" of its own policy. The Fed now will have to tighten its policy before it gets further out of control, by taking "it's long road to normal".
Unfortunately, "normal" involves dramatically higher debt than before, and usually more wealth is destroyed than created as investor's participation peaks with the highs, along with excessive leverage everywhere. This process has played out in a timeless cycles and is shown in detail in the first chapter of my book,

https://geni.us/InvestLiketheBest

.

There is "late" on policy measures, and then there's this. The Fed, by its own admission is still stimulating inflation, which they say is a problem, with policy "a long way from normal" as described by the Fed chairman just last week. How is that not a contradiction?
Furthermore, it's policy rationale has a poor 70 year track record and the forecasting record of its own policy measures is embarrassing. The Fed clearly does not understand the consequences of its own policies as stated. It is easy to throw a multi trillion dollar party but now it has to address the consequences. The Fed still claims it has the "tools" to address anything, but confidence beyond the FOMC boardroom is getting strained.  
The Fed is consequential as never before given the scale of its level of intervention and Investors have to play by the Fed's rules to a large extent. However, real growth limitations have reached a point where Fed policy is increasingly limited. Policy has become dysfunctional and the Fed's distortions are compounding the problem of productive allocation. In an attempt to boost growth with "something for nothing" policy, the Fed may reach the point that its policies generate more inflation than growth. Perhaps we have reached that point already.
Instead of claiming the three objectives of growth, inflation and "financial stability"/markets the Fed may begin to struggle for growth no matter the cost.
Signals, Noise and

Complacency about 2022
The markets will ultimately take the lead while the Fed is still wrestling with the past. Investors need to watch real market signals, that the Fed can't control. At some point the Fed may not be able or willing to fight inflation. It has already moved the inflation goal posts. As shown in my January 2020 Insight, the world economy was in a perilous condition pre covid. The scale of interventions since then have likely further weakened the underlying global economy. Debt and structural impediments have increased.
This year is only 2 weeks old but has already shown significant cross asset volatility. The standouts so far are new highs in oil and banks, higher Treasury yields and a lower US dollar. 
Our growth stock call before the year began  is right on track with the Nasdaq, QQQ down 6% as at the close on 01/13/22.
Quad 2 reflation to quad 4 deflation is often a violent transition. We are still getting Q4 2021 quad 2 data, but the high probability remains a deepening quad 4 in the first half of 2022. That data is yet to come. The market signals typically front run the data.
If you don't know what quad 4 means for your portfolio you better not wait to find out.
Please note these important disclaimers:
Educational use Only. The market update published by CB Investment Management, LLC ("CB Investment")  is intended to be educational in nature and is not intended to be a recommendation for any specific investment product, strategy, plan feature or other purposes. Accordingly, it should not be construed by any consumer and/or prospective client as solicitation to effect, or attempt to effect transactions in securities, or the rendering of personalized investment advice for compensation.
Advertising and Marketing. Communications such as this are not impartial and are provided in connection with advertising and marketing. This material is not suggesting a specific course of action or any action at all. Prior to making any investment or financial decisions, an investor should seek individualized advice from a personal financial, insurance, legal or tax professional that takes into account all of the particular facts and circumstances of an investor's own situation. No person associated with CB Investment is a licensed attorney or tax professional and the information contained herein should not be considered tax  or  legal advice.
Links to Third Party Content. This Market Update contains links to articles or other information maintained by unrelated third parties. You acknowledge and agree to the following: All such information is provided solely for convenience purposes only because we believe that it may provide useful content and all users thereof should be guided accordingly. We disclaim any responsibility for the link's performance or interaction with your computer, its security and privacy policies and practices, and any consequences that may result from visiting it.  We do not control the content published by the third-party; we do not guarantee any claims made on it, nor do we endorse its sponsor or any of the content, policies, activities, products or services offered by any advertiser on the site. CB Investment assumes no liability for any inaccuracies, errors or omissions in or from any data or other information provided by the third party and inclusion or reference by CB Investment to any third party link should not be construed by any consumer and/or prospective client as a solicitation to effect, or attempt to effect transactions in securities, or the rendering of personalized investment advice for compensation, over the Internet.
Important Information regarding Registration Investment advice is offered through CB Investment Management, LLC ("CB Investment"), 8231 Crestwood Heights Drive, Mclean VA 22102 an investment adviser registered with the states of Virginia and Maryland. Registration with the states of Virginia and Maryland should not be construed to imply that the SEC has approved or endorsed qualifications or the services offered, or that its personnel possess a particular level of skill, expertise or training. Important information and disclosures related to CB Investment are available at https://chrisbelchamber.com.