Real interest rates are far more stable and consequential than nominal interest rates for policy and investment allocation.
The Implications for Gold
In order to ensure economic growth and price stability, Central Banks are very attentive to real interest rates and monitor a metric called equilibrium real interest rate or R-star.
R-star measures the (unobservable) real interest rate at which an economy runs at a point of equilibrium at its potential growth rate without overheating or unduly cooling down.
R-Star Drivers & Trends
Here are the R-star drivers and future trends in Europe according to the European Central Bank (ECB).
Even negative interest rates fail to stimulate growth…
This provides the ECB with a thesis for why even negative interest rates have failed to stimulate much growth in Europe over the last several years. If the R-star rate is around negative 2%, then with negative 0.5% interest rates even 1.5% inflation wouldn't produce a boost to the economy on this theory.
Other developed economies seem to be having the same issue. Japan has had negative interest rates and weak growth for well over a decade. A similar predicament increasingly seems to be an accurate description of the US too.
Debt is a major factor…
A major factor is the explosion of debt, which is encouraged and enabled by record low real and nominal interest rates. However, the higher the debt an economy has to finance the more it becomes an economic burden and so a constraint on growth even at ever lower real interest rates.
The chart below shows the spectacular and accelerating growth of US national debt in recent years. Since 2008 the US has repeatedly had to return to zero interest rate policy, where it has stood for most of the time and this has enabled this debt explosion.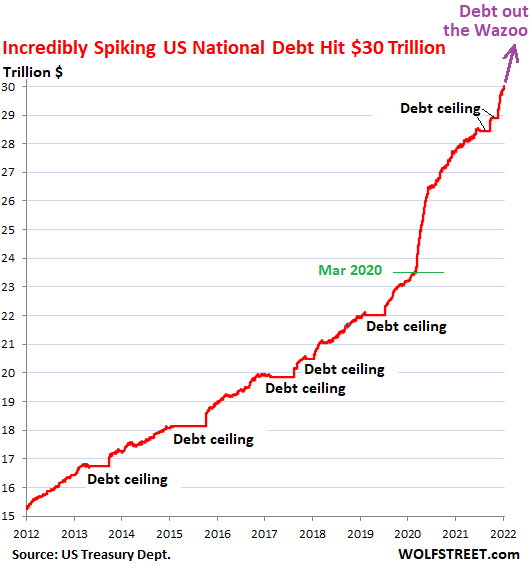 Is Accelerated Inflation the Solution?
The central banks have become trapped in low growth and low interest rate conditions. One way to get out of the trap, so the theory goes, is to find a way to accelerate inflation. This would produce even lower real interest rates just through higher inflation and then perhaps the growth they need would follow according to this theory.
Now that they have achieved inflation, we are about to find out if it delivers sufficient growth and then whether they can contain the resulting inflation. This seems like a simplistic and dangerous gambit, but perhaps it's one of few options they have left. This policy has a substantial inflation risk and may well be ineffective at delivering growth. We will have to see. No question the market reflects this shift in policy already.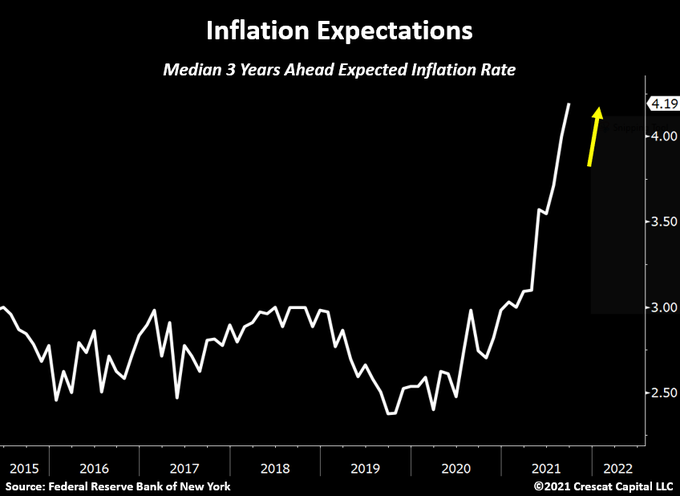 Along with their insolvency issue, it does provide insight to their slowness in responding to inflation with higher interest rates over the last year. However, the flattening yield curve is indicating that the market is providing a clear sign of policy failure already.
Optimal Expected Return Allocation Opportunity
This is producing a clear allocation opportunity. As policy has become more biased in favor of inflation, the real returns on bonds and equities have become the worst in history, as has been shown in previous insights.
We are still likely moving to a Deep Quad 4 environment in Q2 2022, just a month away, and the markets are still at an early stage in fully embracing that Quad 4 allocation. Markets have clearly reacted to a tightening Fed, but Treasuries are still down YTD, and commodities and financials are still doing relatively well. Deep Quad 4 most likely would involve accelerating performance from gold relative to commodities and financials.
Gold has many improving factors in its favor…
Gold has at least made it back to positive territory for the year but the scope for a substantial rally still lies ahead. Weaker growth is the key catalyst for gold outperformance. The chart below shows that gold is as cheap as it been over the last decade relative to other commodities.
As Ray Dalio has said above and all the data laid out in my book indicates, any long term investment allocation can be improved with gold as part of the strategy. At the current time gold has many improving factors in its favour and a great deal of potential runway. Policy is struggling to deliver growth and is taking substantial inflation risks as a remedy.
Please note these important disclaimers:Educational use Only. The market update published by CB Investment Management, LLC ("CB Investment") is intended to be educational in nature and is not intended to be a recommendation for any specific investment product, strategy, plan feature or other purposes. Accordingly, it should not be construed by any consumer and/or prospective client as solicitation to effect, or attempt to effect transactions in securities, or the rendering of personalized investment advice for compensation.Advertising and Marketing. Communications such as this are not impartial and are provided in connection with advertising and marketing. This material is not suggesting a specific course of action or any action at all. Prior to making any investment or financial decisions, an investor should seek individualized advice from a personal financial, insurance, legal or tax professional that takes into account all of the particular facts and circumstances of an investor's own situation. No person associated with CB Investment is a licensed attorney or tax professional and the information contained herein should not be considered tax or legal advice. Links to Third Party Content. This Market Update contains links to articles or other information maintained by unrelated third parties. You acknowledge and agree to the following: All such information is provided solely for convenience purposes only because we believe that it may provide useful content and all users thereof should be guided accordingly. We disclaim any responsibility for the link's performance or interaction with your computer, its security and privacy policies and practices, and any consequences that may result from visiting it. We do not control the content published by the third-party; we do not guarantee any claims made on it, nor do we endorse its sponsor or any of the content, policies, activities, products or services offered by any advertiser on the site. CB Investment assumes no liability for any inaccuracies, errors or omissions in or from any data or other information provided by the third party and inclusion or reference by CB Investment to any third party link should not be construed by any consumer and/or prospective client as a solicitation to effect, or attempt to effect transactions in securities, or the rendering of personalized investment advice for compensation, over the Internet.
Important Information regarding Registration Investment advice is offered through CB Investment Management, LLC ("CB Investment"), 8231 Crestwood Heights Drive, Mclean VA 22102 an investment adviser registered with the states of Virginia and Maryland. Registration with the states of Virginia and Maryland should not be construed to imply that the SEC has approved or endorsed qualifications or the services offered, or that its personnel possess a particular level of skill, expertise or training. Important information and disclosures related to CB Investment are available at https://chrisbelchamber.com.