Fed never learns, back to 2015's epic blunder
WSJ: "Years of Fed Missteps Fueled Disillusion With the Economy and Washington"
Bill Gross has a stinging criticism of the Fed
"Raising Rates now will lead to economic slowdown" Keith McCullough
World Exports show the dreadful state of the world economy
US productivity sinks again – jobs don't translate into growth
August Auto sales a disaster
Small business defaults rise, borrowing drops
Fed becoming marginalized as it keeps setting traps for itself
Roadmap shifted to risk down for short term 2015 conditions. Allocation adding to TIPS and gold miner long term calls options
————–
Fed never learns, back to 2015's epic blunder
Last week the the Fed and renewed interventions shifted markets and policy back to 2015 mode. Gold manipulation returned, and on Friday the top 3 fed officials, confirmed that a September rate rise was "live" as an issue.  Consequently the dollar reversed higher, and commodities collapsed, including precious metals.
As in 2015 where all major indexes were down for the year, except short dated treasuries, nothing can work if the Fed tightens into a economic slowdown. This is what they did in December last year and on that day we called it an epic blunder. See notes written at that time.
Over time the market took our view and in a big way. The chart below shows that since then treasury bond yields fell and gold had a spectaclar rise. That market clearly saw the rate rise contributing to even more significant economic weakness. Directly contradicting the viewpoint of the Fed.
Now it is even more obvious that the economy is slowing down, and it is even more absurd to tighten into an even weaker economy, and the last rate rise gives us a road map for what is likely to happen. We've seen this movie. This is what I am writing about this week as it is the key to positioning over the next few months.
The header cartoon depicts the growing disillusion with the repeated missteps of the Fed. This has begun to reach main stream channels of thinking.
WSJ: "Years of Fed Missteps Fueled Disillusion With the Economy and Washington"
"Now, after more than a decade of economic disappointment,

 

the central bank confronts hardened public skepticism and growing self-doubt about its own understanding of how the U.S. economy works, a development that helps explain one of the most unpredictable and populist political seasons in modern history

."
Bill Gross has a stinging criticism of the Fed
In his latest Investment Outlook, Gross wrote:
"All have mastered the art of market manipulation and no – that's not an unkind accusation – it's one in fact that Ms. Yellen and other central bankers would plead guilty to over a cocktail at Jackson Hole or any other get together of Ph.D. economists who have lost their way."
"With Yellen, there is no right or left hand – no 'on the one hand but then on the other' – there are only decades of old orthodoxy that follows the tarnished golden rule of lowering interest rates to elevate asset prices, which in turn could (should) trickle down to the real economy."
 It is become increasingly clear that the Federal Reserve's economic agenda is out to lunch with Pollyanna.
"Raising Rates now will lead to economic slowdown" Keith McCullough
World Exports show the dreadful state of the world economy
How hard can be to see that the deep economic backdrop is not good for growth.
"While central banks have tried to spur trade through competitive devaluation, it is of no avail from this global perspective, since currency depreciation for one set of economies automatically results in currency appreciation for the others. But the fact that policymakers' collective efforts at stimulating their respective economies have resulted in such massive deflation is s serious indictment of their actions since the end of the GFC."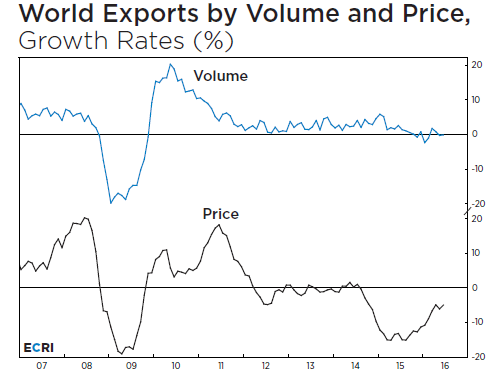 US productivity sinks again – jobs don't translate into growth
"This is the

 
3rd quarterly decline – the first instance since 1979
…"
August Auto sales a disaster
The results are shown below, but here are the statements from Ford.
"For the remainder of the year, we continue to see retail in the industry provide incentives still running at historically high levels, but down versus the record that we experienced in 2015.  Looking ahead to 2017, we continue to see industry sales are strong, but at a lower level than this year."
"Sales have reached a plateau."
"It's just that we're no longer in a period where we have a lot of pent-up demand coming out of the financial crisis. So that's why, I think we use the term plateau"
"Comparisons for the rest of the year are going to be really tough."
Small business defaults rise, borrowing drops
Fed becoming marginalized as it keeps setting traps for itself
Confidence in the Fed is falling fast and now, having raised the stakes on a September rate rise, they have put themselves in a box. If once again they fail to follow through it will only prove again that they continue to fail on their economic outlook. If they do move it will soon backfire, as the economy will weaken faster and the market will once again reflect they have made yet another policy blunder.
Roadmap shifts risk down for short term 2015 conditions. Allocation adding to TIPS and gold miner long term calls options
This time rate tightening by the Fed will be easier to negotiate than the first rate rise last December. The economic weakness is more obvious, the Fed's blunder more clear, and the consequences even have a record as shown above. We have a roadmap for how the markets are likely to develop.
First overall risk still needs to be kept very low. Value, expected returns, and bad policy remain significant restraints on return for risk in many market sectors. That being said the longer term set up for precious metals remains very positive and long term options can be used to contain the risks.
Within bonds, TIPS may now be the better long term bet as beyond the prospect of a near term rally.  TIPS discount only 1.5% inflation, and ultimately the central banks likely will need higher inflation to resolve excessive debts.