Bill Black
Devastating Consequences On Middle Class
Corporate Credit – 15 Year Low
World Trade – 10 Year Low
No locomotive For Global Growth
GDPnow Collapse
Corporate Profits Collapse
"Markets" Versus Real Economic Cycle
Back To Black
Winning Strategies. No Matter What.
—————————————–
Bill Black
Bill Black has been deeply intertwined with the issue of financial regulation for at least 30 years. He has followed the tragic decline in the integrity of financial markets, the perpetual rigging of markets, and the ever more dominant institutions which have become systemically  more dangerous yet increasingly protected.
https://www.youtube.com/watch?v=Y_E35bbFP1E&feature=em-uploademail
Devastating Consequences On Middle Class
While privilege and immunity continue to rise at the highest levels, the price falls heavily on the middle class. These charts show how relentless this trend has been for 40 years. Once gold was removed as a constraint on financialization, there was no limit on the separation of the benefits, as well as growing instability.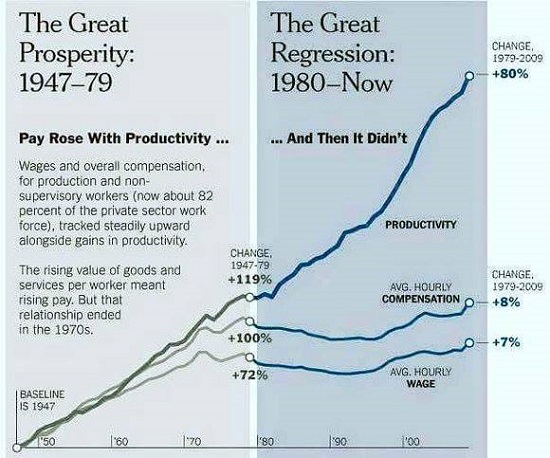 http://www.oftwominds.com/blogmar16/death-of-middle-class3-16.html
Corporate Credit – 15 Year Low
In addition every week we continue to see ongoing evidence that the cycle continues to turn down.
According to Standard & Poors average corporate credit ratings have just hit a 15 year low, as debt accelerates, even as EBITDA starts declining.
If this looks  a little troubling then how about valutaions.
http://www.valuewalk.com/2016/03/average-corporate-credit-rating-hits-15-year-low/?all=1
World Trade – 10 Year Low
Then it should be pointed out that world trade does not look very good.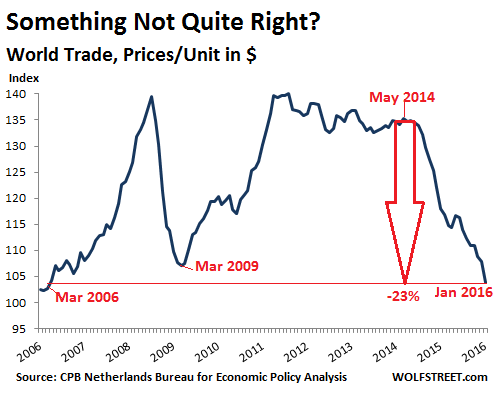 http://www.cmgwealth.com/wp-content/uploads/2016/03/3.25.3.png
No locomotive For Global Growth
Usually there is an obvious remedy for global growth, but currently it seems much harder to find. From which major economic block will the growth come from?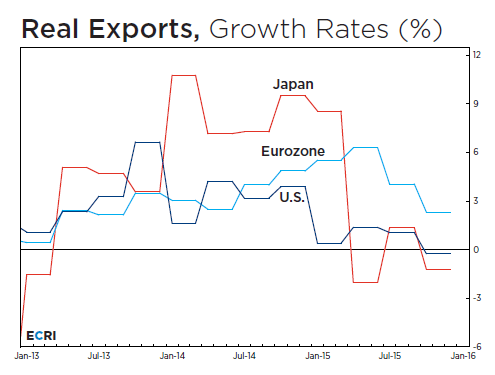 https://www.businesscycle.com/ecri-reports-indexes/report-summary-details/economic-cycle-research-ecri-no-locomotive-for-global-growth
GDPnow Collapse
Last week US Q1 2016 GDP expectations collapsed with the Atlanta fed's GDPnow release:
https://www.frbatlanta.org/cqer/research/gdpnow.aspx?panel=1
Corporate Profits Collapse
Most importantly corporate profits are weaker than at any time since 2008.
"Markets" Versus Real Economic Cycle
Not only have the markets had an enormous rally despite continuous bad economic data, but Q2 could be even worse.
Back to Black
Going back to Bill Black, in many ways it is so important to understand the purposeful dislocations that persistently dominate "markets" from time to time. Then it is possible to understand that the worse the real economic news the more essential it becomes for the "markets" to contradict the data. However, in that case the investment quandary becomes ever more challenging, even though investors have come to feel immune from major downside risks.
Winning Strategies. No Matter What.
Current circumstances reflect a dangerous combination of extremely high equity valuations and yet the clearest economic downtrend since 2008. This is a time for highly robust and yet versatile investment processes. Investors that were committed to static allocation strategies like Modern Portfolio Theory did not do well in this environment the last 2 times.
This is why I continue to emphasize the following strategies that should provide a better basis for surviving and even thriving through the inevitable turbulence that lies ahead.
A. Cycle Dynamic (CD) systems
B. Buy/Write equities
C. Hedgeye Investment Ideas/ Real Time Alerts
D. Stansberry high yield bonds.