Mainstream out of touch again
Now on to the Trump Bubble
The repeating flaw in the narrative
Charles Gave also weighs in on this idea, looking at the UK and France
In the meantime the downtrend in the real economy is relentless
This week the focus is on autos, Toyota and Nissan admit sales are past peak
China sells Treasuries, but Chinese devaluation is a longer term positive for Treasuries
The world's biggest hedge fund warns on the consequences of rising bond yields this week
Mike Maloney explains high fragility of US stocks compared to tax returns and base money
Will you chase the latest bubble craze?
——————————————–
Mainstream out of touch again
Once again the mainstream narrative crashed. How long can popular news sources remain viable when they repeatedly demonstrate how out of touch they are?
Middle Class wealth has been falling for 30 years or so, and the decline seems to be accelerating!
http://nebula.wsimg.com/578b5f2e64453b070f15d70e513f68a2?AccessKeyId=372BE07F51497C9CD088&disposition=0&alloworigin=1
Yet they hardly miss a beat before they are on to the next bubble narrative, even if it is diametrically opposite to the narrative the day before! Bubbles just need that narrative. Then some rationale will be found. How long will this one last? Who knows? It just needs to work for now!
Now on to the Trump Bubble
The new idea is that Trump's wall-building, and other spending with some tax cuts can temporarily boost GDP.
Wait a minute! If debt is already strangling growth, how will more deficit spending help? Didn't Obama do something similar?
The repeating flaw in the narrative
This viewpoint, however, will not be available on mainstream news! Counter arguments are so …. dreary! However, they can help you avoid an unpleasant shock.
On recent experience and the latest analysis that fits the evidence, within 3 years trump's plans will more likely cut into GDP at a rate roughly equal to 1% of total government spending.
While this is counterintuitive to many, I have referred recently to Dr.Lacy Hunt's papers on this. The ideas are developed by looking at the marginal utility of debt. Not an unusual concept in many other areas of economics.
Hunt believes it can be explained by looking at how government spending has changed over time. He points out that since the early 1970s, "mandatory" government spending (on social programs like Medicare and Social Security) has grown from being roughly 50/50 with discretionary government spending (like the Pentagon) to being almost 70% of government spending. These kinds of transfer payments can't produce any wealth. They're simply a redistribution of income that's being produced elsewhere in our economy.
More simply, can you see any relationship between debt and growth in the chart below?
Charles Gave also weighs in on this idea, looking at the UK and France
" if we have reached a juncture when many countries face negative returns on any marginal rise in government spending, then it is simple math that the only way to return to economic growth is to cut government expenditure."
http://files.constantcontact.com/3bf703a6001/77f43606-ee51-4ee6-8af6-cf551cac314b.pdf?ver=1477691312000
In the meantime the downtrend in the real economy is relentless
Recent notes have shown how pronounced, pervasive, and persistent the economic downcycle is, and consistently over the last 2 years!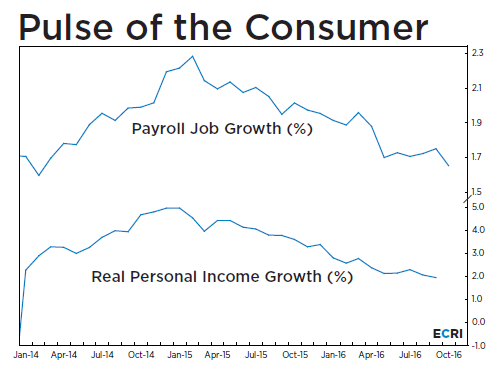 This week the focus is on autos, Toyota and Nissan admit sales are past peak
Porter Stansberry remains right on track with his credit cycle collapse predictions with this weeks collapse in the share price of Hertz, a recommended short just a few weeks ago. The car market is clearly in trouble. The biggest asset of Hertz is its inventory of second hand cars. However, it is also highly dependent on debt.
Then it seems Toyota and Nissan are quite candid on the poor prospects for car sales.
Toyota co-CEO Hiroto Saikawa said "it's a peak and we don't see a potential for further growth…incentives are rapidly growing in the industry, and we are paying close attention to it." 
http://www.zerohedge.com/news/2016-11-08/peak-autos-toyota-and-nissan-execs-admit-us-auto-sales-have-peaked-rapidly-growing-I
http://www.zerohedge.com/news/2016-11-09/gm-slashes-2000-jobs-suspends-3rd-shift-bloated-inventories
http://www.zerohedge.com/news/2016-11-05/class-8-truck-orders-continue-plummet-posting-20th-consecutive-monthly-yoy-decline
China sells Treasuries, but Chinese devaluation is a longer term positive for Treasuries
"While we admit that "suddenly" is not exactly the right word to describe China's selling of US Treasurys, which has been steadily liquidating its UST reserves over the past two years, something changed today, when in a violent move starting around the time of the Trump election was guaranteed after midnight, the offshore Yuan,  the CNH, has been a one way street of non-stop selling, indicative however, of much more than just the relative strength of the dollar.
In fact, as the chart below shows, the selling in the Yuan appears to be closely correlated to today's unprecedented liquidation in US Treasurys…"
" … this is indeed how China plans on "celebrating" the Trump presidency, namely by liquidating billions in US Treasurys on a daily basis, something we have already observed take place for months"
http://www.zerohedge.com/news/2016-11-09/china-celebrates-trump-presidency-suddenly-dumping-treasuries
The collapse of the bond market may have more to do with China than any uptick in growth or inflation perspectives. Remember that a collapse in the Yuan is hardly a positive signal for world growth, and signals a renewed deflationary impact on the US, as import prices from China take another dive!
The world's biggest hedge fund warns on the consequences of rising bond yields this week
This is what Ray Dalio had to say earlier this week, in addition to the risks that would be intensified if bond yields rose:
…this isn't a normal business cycle and we are likely in an environment of abnormally slow growth
…the current tools of monetary policy will be a lot less effective going forward
…the risks are asymmetric to the downside
…investment returns will be very low going forward, and
…the impatience with economic stagnation, especially among middle and lower income earners, is leading to dangerous populism and nationalism.
http://www.zerohedge.com/news/2016-10-08/ray-dalio-warns-1-rise-yields-would-lead-trillions-losses
All this when US equities are precariously placed against other core indicators.
Mike Maloney explains high fragility of US stocks compared to tax returns and base money
Furthermore, there is a major capital allocation problem even in the private sector
This is really another take on why there has been a collapse in money velocity. Also just remember private sector allocation if far more productive than the public sector.
"The solution lies in repairing the demand function in order to drive domestic business investment.  But because this is a chicken and the egg problem meaning without investment we cannot improve demand but without demand improvement we won't get business investment, the existing economic policy frameworks are trapped.  And so the solution necessarily requires a new economic policy framework."
http://www.firstrebuttal.com/private-capital-allocation-matching-only-the-great-depression-for-inefficiency/
Will you chase the latest bubble craze?
The next bubble could keep the equity market going a little further, but the risks are enormous, asymmetrical and growing. Make sure you have your own analysis, allocation and exit strategy in place. Make sure it is worked out independently of mainstream thinking, analysis and information.
Be clear about the following:
The economy remains in a 2 year pervasive, persistent, and pronounced downtrend, which has not yet hit bottom.
https://www.businesscycle.com/ecri-news-events/news-details/economic-cycle-research-ecri-cautionary-signs-for-consumer-spending
The credit cycle bust is just beginning as is well articulated by Porter Stansberry, who is clearly on track.
Any Trump initiatives will take months to put in place, while the current downcycle continues.
Even then if the Obama stimulus failed with a following wind, how do you think the Trump stimulus will do as it faces headwinds?
The Federal Reserve has very little policy cushion.